Team Building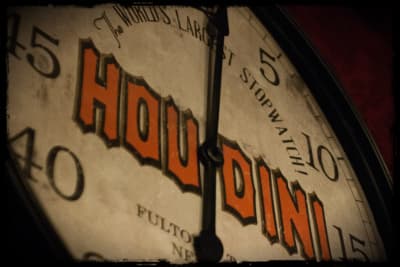 The Man From Beyond is a 90-120 minute experience combining immersive threatre and an escape game. Participants must work as a team to overcome the challenges the room presents and complete the story in which they play a pivotal role. And the clock is ticking.
To escape the room, individuals must observe and discover and think; share their findings, successes, and failures; and must cooperate in tasks that require multiple people. In short, they must work as a team.
Featuring best-in-class production values, an engaging and mysterious atmosphere, intricate puzzles, realistic characters, and astonishing magic, we offer a unique team building experience that's effective and cannot be forgotten.
Contact our team building coordinator to schedule an experience or find out more.
Corporate packages
Basic. Teams of up to eight experience The Man From Beyond over the course of approximately 90 minutes at a custom time. Larger groups can be scheduled in multiple performances 2-2.5 hours apart.
Enhanced. In addition to the game, teams are introduced to successful strategies before entering, observed during the event, and meet the cast afterwards to discuss the game. This event lasts about 2 hours.
Premium. In this unique offering, the team will play with an experienced "escape artist" who will provide live coaching during the game to reinforce successful strategies and suggest teamwork improvements, while always allowing the team to progress on their own. We find that this tight feedback loop allows teams to reach their full potential more quickly. After the game, the creators and cast will be available for analysis and discussion. This event lasts about 2 hours.
Custom packages are also available.
Contact us to book your experience today.